The Papasan chair is a symbol of the 1970s. From catalogs to films to television reality shows, it has been featured just about everywhere. It has had a variety of colors to flaunt and has had variations in its design from time to time.
And while it once used to be everyone's favorite furniture to have in their home, office, or lounge, it has shown a decline in its popularity of late. For reasons unknown, it has been seen in sales and discarded with little consideration, something entirely unwarranted for a darling of an iconic decade.
But, it hasn't gone out of style. The demand has been on the rise as postmodernism and homages to retro designs grow popular by the day.
What is the Papasan Chair?
So what is a Papasan chair? Bearing other names like moon chair, bucket chair, bowl chair, big round chair, bowl chair, elevated bowl, and many others, it is a circular piece of Filipino furniture that consists of a rattan or wicker frame, which does not break easily, a reliable base, and a stylish and extremely comfortable cushion on the top which can be customized in any conceivable way so that you have that furniture to appeal to anyone who visits.
The cushion and the design of the chair offer great lumbar support. A Papasan chair is the bean bag of the 70s, with a fully formed structure, because that's how comfortable it is. This is why it is popular with young adults to hang out with friends and in gaming lounges or just plain home entertainment. I would just love to curl up with it and read books and get some sweet, comfy sleep.
The Papasan chair has been coming back in style for more than one reason. Firstly, a lot of old decors are gaining popularity due to a revivalist movement in the decor and fashion world, so it is not just the Papasan chair that is seeing good days. A lot of minimalistic and modern decor designs had become too commonplace and do not hold any distinction anymore, so people are tracing back to what worked best in the past, and especially when they were younger and bolder in their choices.
Nostalgia plays a really strong factor in marketing and selling. Most movies these days are banking on this very fact and reviving old franchises and giving them new yet nostalgic spins and drawing in newer audiences while also getting the old fans in the seats. So, old clothing styles and old decor are coming back for good, and it is an exciting time to shop! Secondly, a lot of vintage decors are more accentuated than the more minimalistic style, so from an artistic point of view, Papasan is a winner.
There are a lot of Papasan chairs available both online and in physical stores for you to choose from. The catalogs are delightfully enticing. The best thing about Papasan and mamasan chairs is that not only do they look great, but they have the most comfortable cushions that make you sink in them, and they aren't even warm like leather or rexine cushions, the soft cloth feels velvet-like and smooth and adds to the comfort level. These chairs are made for relaxation, and it is hard not to fall asleep in them.
The Papasan Chair Design
The Pretty Pink Papasan
The bold and striking colors of this papasan chair are sure to catch your eye. They are exciting, full of pop vibrance, and enticing. And if you're the romantic lot, this papasan chair makes for a very apt couple seater. Plus, the undeniable comfort of the bean bag cushion can never run out of deserved appreciation. I'd like this chair in my house, wouldn't you?
The Ash White Papasan
This papasan chair has a serene ash white cushion seat, contrasted with a striated black, grey, and patterned blanket and a multi-colored cushion. It looks delightfully comfy and goes well with its surrounding. Imagine sitting in it and reading a good book.
The Striking White Papasan
Sometimes you don't need to go with a lot. Sometimes less is indeed more. Vivid colors, though having their charm and attraction, can be a mismatch in a particular surrounding, and sometimes they can also be a little too striking on the eye.
This is why this particular Papasan chair is one of the simplest yet alluring of the lot. It has no extra cushions, nor does it have a shawl or a blanket and there are no colors except for the chocolate brown of the rattan frame and the milky white of the bean bag cushion. It resembles a chocolate vanilla ice cream and is cool to the eyes.
The Rustic Papasan
I love the shade of green that this Papasan cushion has. It feels rustic and beautiful and is a stylish contrast to the chocolate brown wooden polish. The knitted cushions and the warm blue blanket complete this gorgeous arrangement. As can be seen, it seems to be a perfect place to just sink cozily in and work away comfortably. And, I repeat, I love the colors.
The Turquoise Papasan
Ah. Turquoise blue. So delightfully cool to the eyes and the senses. Even looking at this in a picture calms the mind. Imagine how you'd feel relaxing in the ultra-soft cloth bean bag with a few cushions to make you feel even cozier, while you read or write something, or even watch television.
How could a piece of furniture like this ever go out of style? We're glad it is back in business and with such demand because it deserves every bit of attention it gets.
The Peppy Papasan
This papasan cushion is so unabashedly seventies, I am overawed by the color scheme of it and the combination of the peppy blanket. An unmistakable standout in your living room or any room for that matter, this is one refreshing piece of decor that you would love to have in your home.
The Minimalist Papasan
This is a very different kind of Papasan chair. It is more modern and minimalist in design and does not have the iconic and classic bean bag cushion. Instead, it is netted on all sides and has a slim white and square seat to sit on and a patterned black cushion for the backrest.
Not something you would go for if you're looking for maximum comfort, but something chic and peppy to include in your living room and quite nice to relax in.
The Roofed Papasan
This is another unique set of papasan chairs. One is your standard Papasan chair with a rattan frame, and a large white cushion, and the other one is a little more special than most. It has a big rattan or wicker bowl which is tightly knit. It has a delightfully blue large cushion and multiple pillows and cushions for rest.
But, apart from these amenities, it also has a stylish retractable roof to shield you from the sun and let you have an undisturbed and cozy sleep. It's luxurious, in both its appearance and the comfort it provides. I would love to spend my noontime resting on it.
The Small Papasan
This is a smaller Papasan chair than most. It also has a fluffy bean bag cushion that resembles a sunken marshmallow. It has a lower height and is perfect for you just to sit back and enjoy your leisure time, resting your head on the lovely blue pillow. And if you have a pet, like the people who own that chair do, this chair will serve as a large cozy bed for your pet too.
The Poolside Papasan
This is a two-chair set of papasan chairs to be usually used in the outdoors, preferably by the poolside. Even though the chairs themselves, with their bean bag cushions, are perfect companions for a pool and for people to relax in, the small cushions that come with them are specifically designed for such an environment.
No, I don't talk about their cool blue color which is relaxing, I speak of the material and the extra comfiness that cannot be deterred even if there is a big splash of water striking at them. Because, yes, these cushions are waterproof! Now that's cool.
This pair of Papasan chairs are the perfect pieces of furniture you need by your private pool. They remarkably contrast the cool blue of the pool with their soothing white cushions and yellow-brown rattan frame. Replacing the usual recliner beds, these are comfier alternatives to have on your poolside. Curling up comfortably in them and sleeping on a warm and sunny day seems like a relaxing exercise.
The Papasan Set
This is not just a single Papasan chair, but a full set with a stool and a side table, all woven in a delightful rattan mesh which is then painted with an ash gray that has a very iron-like finish to it and one that looks quite ravishing.
To contrast this grey, the cushions are charmingly scarlet with a matt finish that tones down the sharpness and enhances the beauty of the color even more. I'm in love with this set and would want it on my front porch!
The Wide Papasan
This large papasan chair has a wide diameter of its rattan frame which is lower in height than its peers. It has a colorful bean bag cushion that has different shades of blue and a multitude of flowery designs.
That is complemented by a white and a zigzag patterned blue cushion. The carpet under the chair adds to the appeal of the decor. The pattern itself is very Caribbean and also calls back to the seventies quite boldly.
The Victorian Swingasan
This is not your usual Papasan chair, neither in its design which is not earthbound nor in the pattern it has for its cushion. This is a hanging Papasan chair with no stool to rest the frame upon and instead ropes to hoist it in the air, to give it a buoyancy which only adds to the comfort as it gently rocks in the wind and gives you a sweet sleep with lovely dreams.
The bean bag cushion has a polka dot pattern with a white base and a companion cushion with a very Victorian floral pattern. Oh, how I would love to have this on my lawn.
The Traditional Swingasan
This papasan chair is also from the line of swingasan chairs, but it features the more traditional circular Papasan chair design. It also has a wheel pattern on the decorative side which is unique and cool! It also has an extremely comfortable bean bag chair that you can sink in.
You can hang your legs out if you will and just rest and sleep or read something. You can always add more cushions to the mix to increase your comfort levels. But, even the default cushioning should be enough for you. Plus, you can move it around as it is portable through hanging.
The Beachside Papasan
Here's a pair of papasan chairs that are lightweight and have black frames. The cushions have a color scheme of dark blue and white, with elaborate leafy embroidery covering almost the entirety of the cushions in psychedelic and repetitive manner.
Perfect, hence, for the beach and the front porch, these Papasan chairs can be carried around due to their lack of weight. So, ready yourself to have a deep sleep by the sea because that's exactly what I would do.
The Oblong Swingasan
This is a swingasan Papasan chair. It looks more like a hanging chair than a traditional Papasan chair and doesn't feature the conventional round shape most Papasan chairs have. Instead, it has a comfy white cushion for seating and no cushion in the back.
The frame is made out of rattan and has extremely intricate patterns that have explicit south Asian influences in their symmetry and geometry. Hoisted by a chain, this hammock cum Papasan chair is amply comfortable for your summer getaway.
And if you want to add to the comfort and find the rattan backrest a little uncomfortable, you can always add additional cushions on the sides and in the back and insulate yourself with maximum comfort.
The Mamasan Sofa Set
I love this papasan chair/sofa set. It has not one, not two, but three Papasan chairs, with two single-seater chairs on either side of a large papasan triple-seater sofa which is called mamasan. This set also includes a small stool. And adding to this set's appeal is the color scheme.
The bean bag cushions are strikingly blue, cool to the eyes, and relaxing overall. The center set is complemented by four cushions, of which two are striated with lime green, blue, and white and are square, and the other two are single-toned blue and white. The blue cushion is a small pillow, so if you want to sleep away on this, you can use this Papasan sofa as your bed.
The other two papasan chairs have floral and geometric cushion designs that go well with the overall decor. All in all, a unique sofa set you wouldn't want to miss having in your backyard.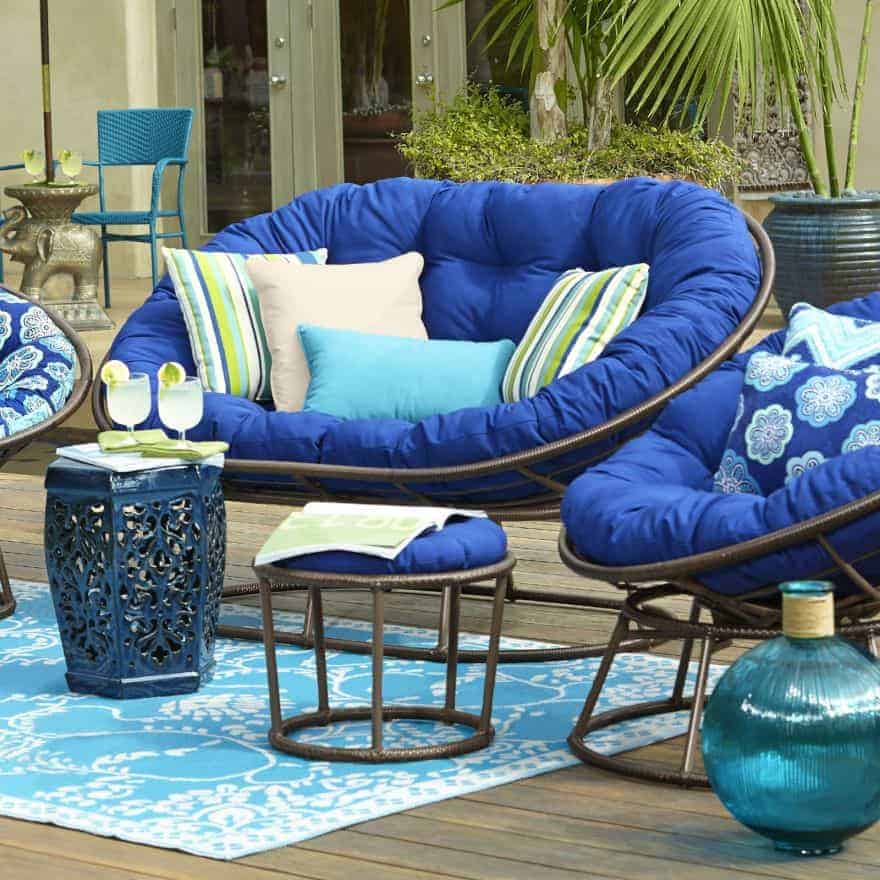 The Postmodern Swingasan
This black Papasan hanging chair mixes the modern and the traditional in a delightful blend with the result being something quite striking. The chair looks like an easter egg sliced in half, and the dark chocolate color goes well with the surroundings.
The netted patterns that surround the chair filter any sunlight while also providing you warmth and air. The milky white cushion looks extra comfy and perfect for you to sleep on or read something.
The Lush Green Papasan
This is a very retro-colored mamasan chair. I love the lush green color of the cushion contrasting the dark brown of the rattan frame. Seems like a cozy companion for your furniture and can snuggle up in a corner to give you enough comfort and warmth. Add a few cushions and a blanket, and you can have a sweet sleep waiting for you.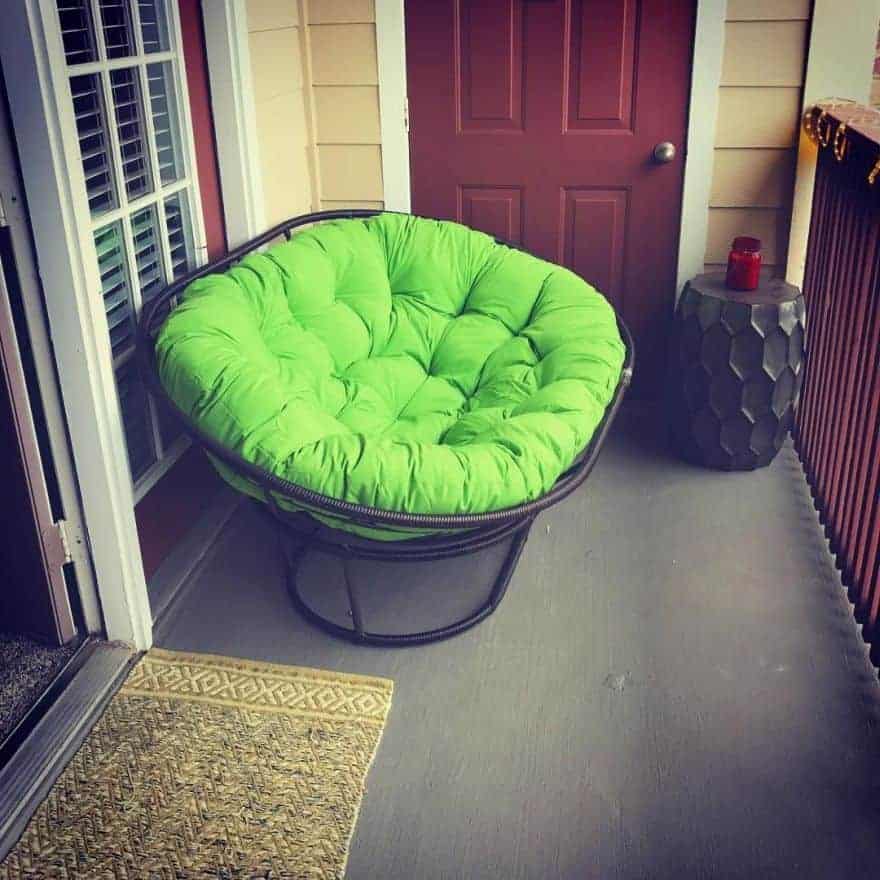 The Ammolite Mamasan
A mamasan chair with a cool white cushion, it looks great placed beside the window. It has silver-gray leaf patterns on it, and its companion cushion has a beautiful ammolite design that is quite charming.
I love the overall look of it. Sometimes, having too much color can be a deterrent, so I prefer this lovely white setting with a dash of silver and some embroidery.
The Oval Mamasan
This oval mamasan chair is a lovely replacement for your old and worn-out sofa. A double seater, it has a light brown rattan frame and a large white cushion with two charming small cushions, one with a drawing of a forest and a girl and another a plain orange color. Moreover, there are two blankets, one of fur and one of plain, the options helping you choose if you want a fluffier comfort or not.
The Dual Mamasan Papasan Set
Here's a set of two papasan chairs, one mamasan, and one Papasan chair. The mamasan chair has a navy blue cushion, and the papasan chair has a sandy-colored cushion.
Both complement each other pretty well, and if you want to stretch out more and sleep, then you can sleep in the mamasan chair, and if you want to curl up then the Papasan chair will be a more fitting option. Either way, this set makes sure more than one person can enjoy the comforts of the Papasan chair at the same time.
The Ribbed Mamasan
This mamasan chair is built for comfort. The ribbed and boxed cushion is designed to give you great lumbar support while you rest, regardless of your using it. I just want a pillow on it and retire to sweet sleep and you can too because it will cost you only three hundred dollars or so. Not bad at all for something so rewarding.
The Standard Papasan
This white Papasan chair costs just about two hundred dollars. You would think beautiful furniture like this would cost more. But, most Papasan chairs are incredibly affordable.
So, what do you think of the Papasan? Is it something you find fitting for your home decor? Where would you like to keep it? In your living room? Study? Porch? Backyard? Office?
The options are plenty, and this crafty chair will be a favorite of anyone anywhere it is kept. By choosing a Papasan chair, not only are you bringing a splash of color and style with retro and nostalgic decor themes, but you're also giving yourself and others a chance to have the most comfortable seating, for reading, writing, leisure, and sleep.
There are no conceivable downsides to owning a Papasan chair. It is fantastic for your lumbar support; it doesn't cost all that much either. So, what are you waiting for?
Order a Papasan or a mamasan or an entire set for yourself and welcome a whole new level of comfort that you won't have enough of! The designs are plenty, and the number of cushions you can add is entirely up to you, so all that remains is how comfortable you want to be in a Papasan.